In the years that TPO has been in the field, it's become one the most popular products used for low-slope roofing. Over 1 billion sq. ft. are installed annually world wide, making up over 50% of singleply roofs being installed today.
Proven Performance and Great Value
When you're looking for great performance in a value-priced TPO roofing system, look no further than classic EverGuard® TPO. It's perfect for new construction or re-roofing where superior performance is required at a cost-effective price. It features the same great performance that all EverGuard® products offer—exceptional seam strength and puncture resistance, superior long-term weathering, and easy installation—for maximum reliability.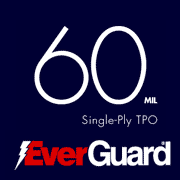 Advanced Protection For Your Property
There are many choices for TPO membranes. Only EverGuard Extreme® TPO offers superior performance over "standard" TPO membranes and the industry's best guarantee: up to 30 years for 80-Mil! Specifically, this patent-pending technology delivers next-generation performance against heat aging and UV degradation (the two key performance characteristics directly related to roof system longevity),and also exceeds all key ASTM standards for TPO membranes.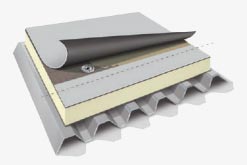 EverGuard® TPO application video
FULLY ADHERED SMOOTH TPO WITH TRADITIONAL BONDING ADHESIVE
BRANZ Appraised for New Zealand's harshest environments.
While GAF EverGuard® TPO have UL and ASTM international certification, they have also been BRANZ Appraised for New Zealand specifically.  BRANZ are the leading major Appraisal company in New Zealand and are highly respected by industry Professionals and Territorial Authorities alike.
Accessories for every detail
Field fabrication of TPO accessories is time-consuming, costly and inconsistent.
EverGuard® TPO prefabricated accessories deliver consistent quality, they can also boost productivity up to 200%, while reducing installed cost by up to 12%