Answers for every TPO question, contact us today
As New Zealand's premium TPO and asphalt shingle roofing provider GAF supply and distribute TPO and asphalt shingle roofing throughout New Zealand and the South Pacific.
The quality and durability of our product, our BRANZ appraisal certification and the overall strength of our brand means that GAF has become a company that contractors, architects and homeowners trust.
Fill out the form or call 0800 42 33 55
GAF Manufacturing Facilities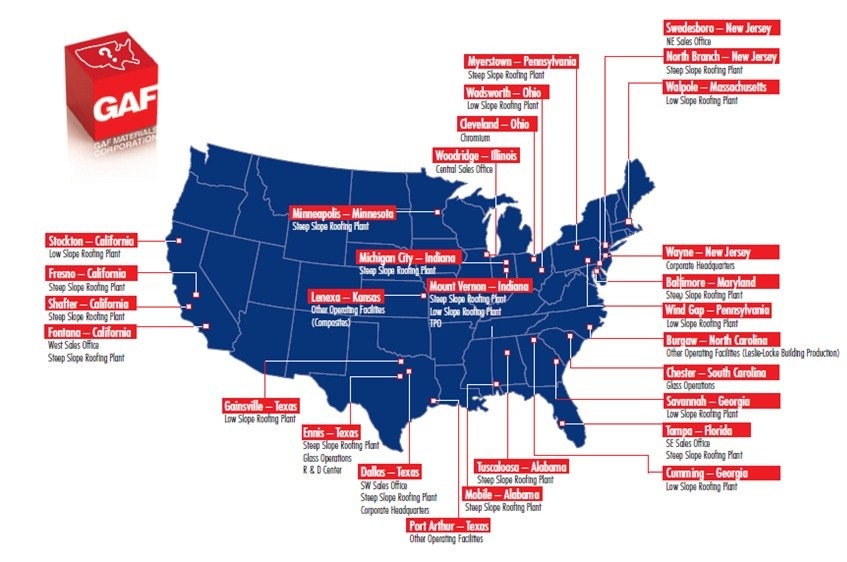 About GAF
Founded in 1886, GAF has become North America's largest roofing manufacturer. Our success in growing the company to nearly $3 billion in sales has been based on our unique philosophy of helping property owners & architects to make their best and safest roofing choices.
An American-owned company with dedicated inspectors, GAF is known for Advanced Quality, Industry Expertise, and Solutions Made Simple. We strive to help property owners/managers meet their roofing needs with fewer hassles and peace of mind. GAF has:
Over a century of expertise to serve your various roofing needs
Manufacturing locations across North America to serve you better
C.A.R.E. installation training — a program that has provided education to over 125,000 industry professionals — for your key personnel
GAF-certified contractors — more than 4,000 strong nationwide — to eliminate the risk that your roof will be installed by some fly-by-night contractor
A proven reputation — professional installers have long preferred the rugged, dependable performance that only a GAF roof can offer
The industry's best guarantees — backed by GAF, a $3 billion company — to provide you with the peace of mind you deserve
Choosing The Right Roofing System
Choosing a roof can be a stressful and confusing experience for anyone in the commercial industry. With our full line of top-quality roofing products, industry-leading guarantees, and expert tools and resources, GAF makes it easy for you to select the right roofing solution for your needs.
GAF Capabilities
GAF is not only North America's largest roofing manufacturer but also a true provider for commercial roofing system needs. We offer a wide variety of roofing systems as well as all the accessories and support needed to do the job the right way.
Guarantees
Choosing GAF means not only installing high-performing products from a trusted commercial roofing company but it also means having the ability to protect your roof with great guarantee coverage.
Maintenance
Regular roof maintenance is a responsibility of ownership and an integral part of extending the life of your building's roof. If you don't perform roof maintenance on an ongoing basis, you're putting your property at risk of damage from leaks — not to mention taking the chance that your guarantee coverage will be jeopardized.
New GAF Cedar City, UT, Manufacturing Facility Starts Shipping TPO
GAF, North America's largest roofing manufacturer, has started shipments from its new thermoplastic polyolefin (TPO) and polyisocyanurate (ISO) plant in Cedar City, Utah. Construction of the state-of-the-art site was announced in spring of 2013; it houses GAF's third TPO and third ISO production lines (and it's the company's second combined TPO/ISO facility). TPO began shipping from Cedar City on August 1 and ISO products are expected to begin shipping in early 2015.
The 541,000-square-foot plant produces the full line of GAF TPO products, including EverGuard® TPO and EverGuard Extreme® TPO, and it will manufacture both ISO roof insulation and residential sheathing. In addition, the plant will include a new training center for CARE (the Center for the Advancement of Roofing Excellence), to support the continued and growing demand for their training classes.